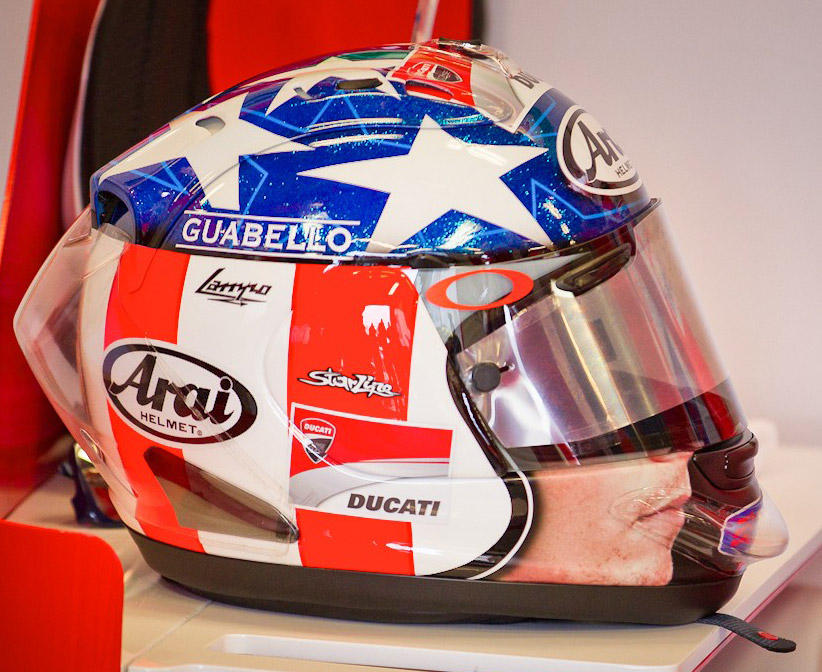 Nicky Hayden's 'Easy Rider' helmet : available soon!
Remember American MotoGP  star Nicky Hayden's amazing art idea for the Arai helmet used in the USA rounds of the championship at Laguna Seca and Indianapolis?
I covered it here at the time in what proved to be a very popular post, here's a recap:
https://survivalofthefastest.wordpress.com/2012/07/27/haydens-awesome-laguna-seca-helmet-5-2/
It shows the helmet from the amazingly clever open side angle and the back artwork too.
Arai have now announced that as the helmet proved so popular there will be a limited edition replica available at the hefty price tag of £749.99 but only 100 will be available in the UK.
The release date is February 2013, although you can pre-order now from your local Arai DNA centre, you can find your local dealer worldwide via this link:
http://www.whyarai.com/cgi-bin/arai_dealers.pl
Here's what Arai have to say about the RX-7 GP "Easy Rider" collaboration:
"The new RX-7 GP Nicky Hayden "Easy Rider" is something completely different! Peter Fonda used his famous "Stars and Stripes" open face helmet on his "Captain America" Harley. More than 40 years later designers Starline transferred this theme on the RX-7 GP into the 21-century.
The visual gag is of course that the shape of an open face helmet is suggested, complete with an image of an unshaven chin sticking out under the visor!"
Personally I think it's one of the coolest helmet ideas of all time, up there with some of Rossi's best, like the screaming face or Misano donkey.
Image via Arai's twitter account @whyarai